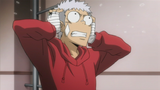 This article contains detailed information from episode(s) and/or manga chapter(s).
It may contain SPOILERS.
Continue reading at your own risk.
Tsunayoshi Sawada, commonly known as Tsuna, is the main protagonist of Katekyō Hitman Reborn! series. He is the only child of Iemitsu Sawada and Nana Sawada, and a descendant of Giotto, the first generation boss of the Vongola Famiglia. Thus, he is training to to become the tenth generation boss under the tutelage of Reborn.
As the main protagonist of the series, Tsuna appears in all the series' video games, as well as special appearances in both Shōnen Jump compilation games, Jump Super Stars, Jump Ultimate Stars and J-Stars Victory Vs. He also appears in the Hidden Bullet light novels, albeit in a minor role. On July 8, 2008, Pony Canyon released a character CD containing media from both his and Reborn's voice actors.
Character Outline
Appearance
Tsuna is a short and slim teenage boy with spiky brown hair and orange eyes (which were changed to brown in the anime). He inherits many traits from Giotto and his mother, Nana Sawada.
His most prominent outfit in the series is his Namimori Junior High uniform. He wears a black sweater vest, a white formal shirt, blue tie, and gray pants. He previously wore a white short sleeve shirt with a red tie as his uniform in the beginning of the Daily Life Arc, which was later changed to a yellow blazer with an "N"-shaped logo on the left side and a blue tie. 
When Tsuna isn't wearing his school uniform he is shown to have a penchant for hoodies, and wears several of them during the course of the series. During the Future Arc, his most recurring outfit is a white hoodie with long orange sleeves, and green pants. During the Choice Arc, Tsuna's outfit is an all black suit, with a white long sleeved shirt and black necktie from underneath, alongside his guardians.  
Many of the outfits he wears has the number 27 somewhere on his clothes, acting as a reference to his name as "tsu" means two, and "na" means seven in Japanese.
His most prominent footwear are his white and orange sneakers.
Personality
Tsuna is commonly referred to as a loser, he is an ordinary junior-high student best known in school as "No Good Tsuna" due to his poor grades, wimpy attitude, bad luck, and lack of athleticism, a fact that Tsuna freely admits. He often self doubts himself and quits easily, skipping or ditching his classes, though he becomes more confident of himself and mellows out later in the series.
Tsuna is generally depicted as comically horrified by the outrageous actions of those around him, generally causing him to become nearly hysterical, especially by Reborn's training methods. His lack of confidence and tremendous lack of luck generally contrast humorously with the positions of leadership and external pressure Reborn puts him in. Despite his title, he seems an earnest individual with great potential; unfortunately, Reborn discovers that often the only way to force Tsuna to fulfill this potential is to put him in a life or death situation.
Compared to many of his friends, Tsuna is more down to earth, since he is still relatively new to the mafia world and the supernatural. In many occasions, especially in Reborn's antics, Tsuna is able to point out all the strange things that happen before his friends are able to do so.
Although told by others that he is to be the 10th generation Vongola Boss, Tsuna is generally unwilling to take part in anything that has to do with the Mafia. He always denies the fact that he is going to be a Mafia Boss and tries to avoid anyone and anything involved with the Mafia, clinging to any element of an ordinary life he can, even stating that his Guardians and subordinates are just his friends and upperclassmen. Later, though he dislikes the violent history inherent in the Mafia, stating that he would rather destroy the Vongola Famiglia then to accept such a heritage, Tsuna is grateful for the friends he has made since meeting Reborn. He cares a lot for his Famiglia and puts himself in the way of danger and even death in order to protect the members.
Tsuna's personality has developed greatly since the beginning of the manga, from being a cowardly, useless individual who gave up easily, to an individual of great resolve to do whatever he must do to protect the companions he has made. Later, he is depicted as being comfortable with leadership, as the others in his Famiglia look to him for decisions he dispenses without hesitation.
The Tsuna of the future is said to be deceased, having been gunned down; however, not without making arrangements for the future. It is later revealed that the bullet used to gun down Tsuna was just another special bullet (similar to Dying Will Bullet) that replaced the normal bullet in the gun, the deed done by Shoichi Irie. Presumably, the future Tsuna has now settled comfortably into the role of the tenth Vongola Boss and has been shown to be much more confident, entrusting the task to defeat Byakuran to his past self.
There have been many similarities between Tsuna and the founder of the Vongola Famiglia, Giotto, including physical appearance, fighting techniques, and weapons used. Both of their personalities are likely to be very similar as it has been shown that they have similar goals and ways of standards; for example, neither had problems with appointing Guardians from outside the Famiglia or accepting past enemies into their Famiglia. Both are also forgiving and unexceptionally kind, as shown on numerous occasions; despite claiming that he will never forgive his enemies, Tsuna would end up sympathizing with and eventually forgiving them, almost immediately regarding them as his allies.
Weapons and Abilities
Tsuna is capable of using the Dying Will Flame (when shot with special bullets or having taken certain pills), which is a form of high pressured energy capable of having destructive powers or purifying evil auras. It initially lies within a person's body until it is awakened, helping increase a person's strength. When a person is able to control the full potential and power of the Dying Will they are able to go into (Hyper) Dying Will Mode at any time. Reborn said that any one has the potential to do this, but not many people can withstand the training phases. Through Reborn's training, Tsuna has grown exponentially whenever he faced opponents that were levels above him in strength.
Tsuna has at times showed signs of brilliance, despite his idiotic tendencies, having created a technique such as the Zero Point Breakthrough: Revised through his Hyper Intuition. He developed the X-Burner simply from Haru stating how her, Kyoko, and the others would always support Tsuna, which made Tsuna think of using the Soft Flames to support him with one hand, while he uses the other hand to fire the Hard Flames.
Forms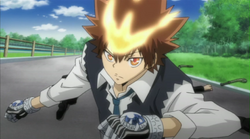 Equipment
Sky Vongola Ring: Won after the Ring Battles with the Varia. Tsuna usually wears this Ring around his neck, but he wears it behind his right glove when he is fighting. In the future, both Future Tsuna and Present Tsuna learned how to release Sky Flames with the Harmony characterization. Tsuna is also able to open any kind of Box Weapon using the Sky Flames produced by the Sky Vongola Ring, though the power is less than those opened with the original Flame attribute. In addition, it can also not bring out the true potential of the box weapons. During his battle with Byakuran, a manifestation of Vongola Primo appeared and granted Tsuna and his Guardians the true power of the Vongola Rings. As a result, Tsuna's Flames and techniques have dramatically increased in power.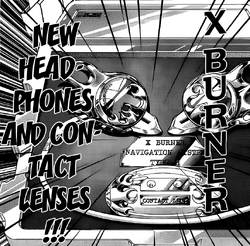 X-Headphones: Created by Giannini during the Future Arc, as a method of communication during the Merone Base invasion. Per Reborn's request, this headset is able to project holograms to allow Reborn to help Tsuna from a distance. Spanner later linked the headsets to the contact lenses he created to help Tsuna perfect his X-Burner. The present Spanner created upgrades for these along with upgrades for the contact lenses.
Lancia's Boss's Ring: Lancia gave this Ring to Tsuna before the latter left with Basil for Italy. Tsuna brought it with him to the future, and found out that it was a special ring until it was detected by a Strau Mosca shortly after meeting Lal Mirch. It also protected him from Byakuran's Mini White Dragon.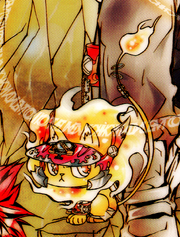 Techniques
Vongola Hyper Intuition- It is described by Reborn as being "a power that could see through all."
Minus State - Tsuna can rest his Flames and pass out. After, Tsuna can return to his Hyper Dying Will Mode without getting hit with a Criticism Shot or having to ingest two Dying Will Pills.
Zero Point Breakthrough: Revised: Tsuna's own version of the Zero Point Breakthrough. The revised Technique allows Tsuna to not only absorb the enemy Flames, but convert the Flames into his own power.
Zero Point Breakthrough: First Edition: The Technique used by the First Vongola and later the Ninth Vongola and Tsuna. It takes Tsuna to be in the opposite state of the Hyper Dying Will State to create ice, which is highly negative compressed energy that can seal Dying Will Flames away and can only be melted by the Dying Will Flames.

X-Burner: A powerful blast of Dying Will Flame from the X-Gloves Version Vongola Ring usable on the ground and in the air.
XX Burner: Tsuna's upgraded version of X Burner, used after gaining his Cambio Forma Version Vongola Gear. Soft flames fired out backwards absorb the recoil of the front facing flames.
Condensed X-Burner: After gaining Oath Flame inn order to limit the damage of the X-Burner to a smaller area, while keeping its usual destructive power, Tsuna Gravity Manipulation in order to pinpoint the technique on just his target and minimize the usual damage caused by the technique on the surrounding areas.
X-Stream: Tsuna dives down at the enemy, and rapidly begins to circle them from bottom to the top, flames lagging behind, until they are completely covered with spiraling flames.
Hyper X-Stream: Hyper X-Stream is a more powerful version of the original X-Stream attack used by Tsuna. Tsuna flies toward his enemy and rapidly circles them from bottom to top, Flames lagging behind his feet, until his target is completely trapped in a tornado of Sky Flames.
Big Bang Axle: Tsuna concentrates Flames in his fist while using Mitena di Vongola Primo to deliver a powerful punch which is said to rival the X-Burner in power.
Burning Axle: After gaining the Original Vongola Rings, the Big Bang Axle gained more power, and was dubbed the Burning Axle.
X Cannon: After gaining the new Cambio Forma Version Vongola Gear, Tsuna can shoot two powerful blasts with an X shape from the hand with the other hand on the arm.
Gravity Manipulation: After gaining the power of the Oath Flame, with the ability of the Sky Flame Tsuna is able to utilize the power of the Earth Flame and uses its Gravity Manipulation powers.
Flame-Enhanced Punch: Tsuna coats his arms in Sky Flames and punches the target.
Character Songs
Trivia
His nickname, "Tsuna", is often connected to "tuna." His bedroom door has a tuna fish with his name on it. A common shorthand of his name used among fans is "27", while his Hyper Dying Will Mode is "72" the opposite of normal Tsuna. In Japanese, 2 sounds like "Tsu" and 7 is pronounced "Nana"; hence, "Tsu-na."
Tsuna could not ride a bicycle without training wheels until the 5th grade.
Tsuna's hair has been unkempt since birth; not even conditioner can smooth it down.
He is the first Japanese descendant of Giotto to inherit the position of Vongola boss: generations two to nine are Italian and Iemitsu cannot inherit it due to being CEDEF boss.
Tsuna is first place in bosses who can't refuse a request and bosses with no ambition, as told by Fuuta.
Tsuna's sprinting speed is ranked 86,202nd out of 86,202 mafia members, his leg strength is 85,900th and his endurance 86,182nd so Tsuna's overall ranking is dead last, as told by Fuuta.
Tsuna is 872nd out of 872 mafia bosses in terms of over combat ability and intelligence, as told by Fuuta.
Tsuna places high in the ranking of people who get their food stolen.
Tsuna has the highest easily-spooked ranking in the Mafia.
Ever since his fight with Mukuro during the Kokuyo Arc, Tsuna has developed an ability to sense Mukuro whenever he is nearby.
In the manga, it's revealed in an essay that Tsuna's nickname was "Useless Tsuna" in second grade which has now evolved into "No Good Tsuna."
Out of the tenth generation, he's the only member whose ten-years-later self hasn't been fully shown.
In the most recent poll, Tsuna ranked second in popularity and first in strength.
According to Reborn, he's popular with his subordinates.
In a 2008 internet survey, "The Character I Want To Be My Groom" Tsuna ranked 6th. In the 2009 survey, he ranked 7th.
In the manga, Tsuna's Skullitis disease revealed that Tsuna greatly fears cockroaches.
In a second grade essay, his dream was to become a giant robot.
His current dream is to marry Kyoko.
As revealed in the "Mid-Winter Test of Courage" by Fuuta, Tsuna's number one fear is the fear of bats.
In the game, Jump Ultimate Stars, where Tsuna and Reborn are characters, when Reborn shoots Tsuna with a Dying Will Bullet, Tsuna's flame is blue instead of the original orange, which reflects the Sky Flames. This is most likely because of the confusion between Basil and Tsuna's Flames, and when Jump Ultimate Stars was released, Reborn! hadn't established the Flame system yet.
According to Yuni, Tsuna is known to be the Vongola Boss who always fights with his brows furrowed and fists swung in the semblance of a prayer.
Some of his possessions have the number "27" on them, such as the dormant form of the X-Gloves, his airbike, his special earphones, and some of his clothes.
Tsuna's pride is his friends and comrades.
Tsuna's syllables backwards is pronounced Natsu.
Like his father and Giotto, their Japanese names (Tsunayoshi, Iemitsu, Ieyasu) are the same as the Tokugawa Shoguns.
According to Checker Face, Tsuna is on top of the list of candidates who has the necessary requirements to become an Arcobaleno.
He is one of the only three characters to have a story mode in Katekyo Hitman Reborn! Kindan no Yami no Delta video game. The other two being Xanxus and Chrome (together with Mukuro).
Tsuna is revealed to have a lot of embarrassing secrets from once gaining Skullitis .

He's never scored 100% on a test.
He skips school on days where he's supposed to get shots.
He's unable to drink coffee.
He doesn't know how to multiply by seven.
He was once sent to the hospital for getting a bean stuck in his nose.
He doesn't know what a leap year is.
He has a fear of slugs.

Tsuna has 308 favorite foods.

Salisbury steak is ranked 1st.
Fried eggs is ranked 8th.
References
↑ 2.0 2.1 2.2 Katekyō Hitman Reborn! Vongola 77 (p. 16).
↑ Katekyō Hitman Reborn! manga: Chapter 409.