Sun Spiders

Info
Title
Ragno Ciel Sereno
Name
Sun Spiders
Designer
Lorenzini
Animal
Spider
Users
Ginger Bread
Abilities
Growing
Power
D
Intelligence
D
Speed
C
Stamina
D
Size
0.05mm - 1cm
Personality
Diligent
Skills
Manga Debut
Chapter 179
Sun Spiders are spiders in a Sun-attribute Box Weapon that can be launched at a target while still in its egg state. When activated with Sun Flames, they hatch to become spiders.
Abilities
Edit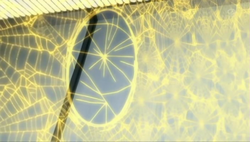 While in egg state, it invades enemies through open wounds without being noticed and then burst out of their shells when commanded to. The threads drawn by the adult Sun Spiders can be used to sense enemy movements and, as seen in the fight between Ginger and Lal Mirch, its high-speed reconstruction properties can be used to separate a group of enemies.
Ad blocker interference detected!
Wikia is a free-to-use site that makes money from advertising. We have a modified experience for viewers using ad blockers

Wikia is not accessible if you've made further modifications. Remove the custom ad blocker rule(s) and the page will load as expected.