Roll

Info
Title
Porcospino Nuvola
Designer
Lorenzini
Animal
Hedgehog
Users
Abilities
Propagation
Power
B
Intelligence
B
Speed
B
Stamina
A
Size
30cm (11.8 inches)
Skills

Needle Sphere Form
Reversed Needle Sphere Form

Manga Debut
Chapter 153
Anime Debut
Episode 82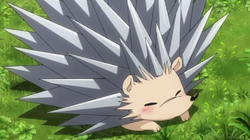 Roll
is
Hibari
's Cloud Box Weapon that possesses the ability of Propagation. Roll propagates all parts of its needle-covered back to use them as either weapons or foothold. By means of a strong Flame, it can create an impervious dome that cannot be broken by normal attacks; however, if too strong, Roll will become drunk on the excessive amount of Flame. It can also curl over his own body to form a sphere of needles and then propel itself forwards to attack targets at a distance, as if a projectile weapon.
Abilities
Edit
Kusakabe refers to Roll mentally as "Barinezumi" (a portmanteau of Hibari and harinezumi, or hedgehog in Japanese).
Roll's favorite food happens to be chikuwa.
Future Hibari has multiple Cloud Hedgehog Box Weapons.

Because of this, during Future Hibari's training spar with Tsuna, Tsuna was able to steal one of them and use it against Hibari.