The order of topics and sub topics a character page should go by
Section Order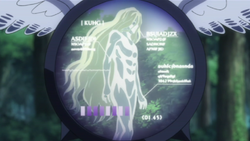 Character Outline - The beginning section with a general intro. In here goes:

Personality - Information on the character's personality.
Appearance - Information on the character's general appearance
History - Historical and background information on the character.

Plot Overview - The role a character played in the story.
Relationships - A Summary of the relationship a character has with another character. NOTE: Only mention characters with which the main character has had a worthwhile relationship with.
Abilities and Weapons - A list of any Technique/Special Ability/Weapons the character can use.
Appearances in other media - Hidden Novel Series, or any other CANON appearance. Games aren't considered canon.
Trivia - Trivia items. Organized in list format using * at the start of the line. (No speculation or fan theories please)
References - Just the ==References== section with a <references/> tag below it. To collect the <ref></ref> tag info in the page. Individual bits of info should be tagged with specific citation other than just the general sources section.
Notes
We use westernized names. i.e "Shoichi Irie" instead of "Irie Shoichi."
Plot Overview: Plot Overview should be written Like ==Plot Overview==, the Main Arc Name like ===Main Arc Name===, and finally the sub arc name like ====Sub Arc====
"Filler" should not be inserted into arc titles.
Ad blocker interference detected!
Wikia is a free-to-use site that makes money from advertising. We have a modified experience for viewers using ad blockers

Wikia is not accessible if you've made further modifications. Remove the custom ad blocker rule(s) and the page will load as expected.