Namimori Shrine is a location within Namimori. Most likely located in the middle of Namimori. Some major events have taken place just outside the shrine.
Appearance
Edit
The shrine has the typical appearance of one. It is painted in red in color on the exterior. Since it is built on a hill, there is a long staircase in front of the shrine. The main gate is located at the top of these steps. Its roof is greyish-yellow in colur. The shrine also has some trees and shrubs surrounding it.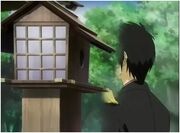 Ad blocker interference detected!
Wikia is a free-to-use site that makes money from advertising. We have a modified experience for viewers using ad blockers

Wikia is not accessible if you've made further modifications. Remove the custom ad blocker rule(s) and the page will load as expected.