Leon

Normal

 | 

Weapon-creating

Info
Animal
Chameleon
Size
25cm
Weight
0.15kg
Abilities
Shapeshifting
Partner
Reborn
Manga Debut
Chapter 1
Anime Debut
Episode 1
Leon (レオン, Reon) is a shapeshifting chameleon who is Reborn's animal partner and main weapon in the anime. Though he is not always used by Reborn for battles, Leon was able to defend against the attacks made by Tsuna and his Guardians and even deal serious damage during Reborn's trial. Leon has been shown to be able to spin threads that are resistant to Dying Will Flames. These threads were used before the Sky Ring Battle to make clothes for Tsuna that looked like his school uniform. Before the Choice battle with the Millefiore's Six Funeral Wreaths, the threads were used to make Flame resistant black suits for all of the 10th generation Vongola Guardians.
Leon also goes through a metamorphosis every time Reborn's student will go through a life-or-death battle. In the beginning, Leon's tail falls off, and he becomes unable to control his shapeshifting. At some point, he then spins himself into a cocoon. After that, Leon creates an item or items for Reborn's student. For Dino, Leon created Enzo and a bullwhip. For Tsuna, he created the Criticism Shot and X-Gloves.
Abilities
Edit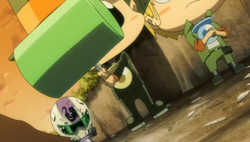 Ad blocker interference detected!
Wikia is a free-to-use site that makes money from advertising. We have a modified experience for viewers using ad blockers

Wikia is not accessible if you've made further modifications. Remove the custom ad blocker rule(s) and the page will load as expected.