Katekyō Hitman Reborn! Kizuna no Tag Battle

Info
Title
Katekyo Hitman Reborn! Kizuna no Tag Battle
Developer
Marvelous Entertainment
Genre
Tag Battle
Release Date (JPN)
February 25, 2010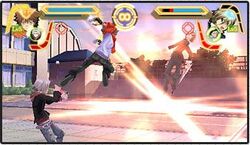 Katekyo Hitman Reborn! Kizuna no Tag Battle is a game of tag between two of the characters of your choice. It is powered by Marvelous Entertainment. It is also graphically constructed by Shade™. The player can choose 2 characters that can unleash a special attack after reaching level 5.



List of Characters
Edit
G. Codes are used to unlock the characters in the game.
Not all characters have special attacks upon reaching level 5.
Tsuna has special Attack after reaching level 5 in all of his Guardians except Future Mukuro.
Other Characters won't unlock if you don't finish story mode. You can also unlock characters using G Codes.
Ad blocker interference detected!
Wikia is a free-to-use site that makes money from advertising. We have a modified experience for viewers using ad blockers

Wikia is not accessible if you've made further modifications. Remove the custom ad blocker rule(s) and the page will load as expected.