Katekyō Hitman Reborn! Battle Arena

Info
Title
Katekyo Hitman Reborn! Battle Arena
Developer
Marvelous Entertainment
Genre
Battle Gaming
Release Date (JPN)
September 18, 2008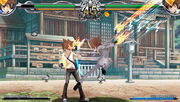 Katekyo Hitman Reborn! Battle Arena is a PlayStation™ Portable game between two characters. It is a battle game with different modes, arenas, and stages. By using different unique techniques, the player can unlock the "hyperstrike", the strongest attack, of the selected character.




Playable Characters
Edit
Future Mukuro has less Six Paths of Reincarnation abilities in this game than the present Mukuro.
Chrome can create Illusions of Ken, Chikusa, and Mukuro.
Tsuna is the only character that is able to use two "hyperstrikes": the X-Burner and the Zero Point Breakthrough: First Edition.
Katekyo Hitman Reborn! Battle Arena was the first Reborn! game on the PlayStation Portable (PSP).
Ad blocker interference detected!
Wikia is a free-to-use site that makes money from advertising. We have a modified experience for viewers using ad blockers

Wikia is not accessible if you've made further modifications. Remove the custom ad blocker rule(s) and the page will load as expected.