Kangaryuu (Version X) is the Vongola Gear enhanced Kangaryuu. Kangaryuu now has X-emblazoned armor around its body, and is capable of merging directly with Ryohei for his Cambio Forma Version X, Ryohei's Cambio Forma Version Vongola Gear. According to Ryohei, Kangaryuu is now able to fight by itself, rather than just act as a support Box Weapon.
Powers and Abilities
Edit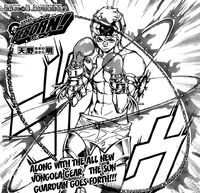 Ad blocker interference detected!
Wikia is a free-to-use site that makes money from advertising. We have a modified experience for viewers using ad blockers

Wikia is not accessible if you've made further modifications. Remove the custom ad blocker rule(s) and the page will load as expected.