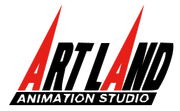 Artland, Inc. (株式会社アートランド, Kabushiki-gaisha Ātorando) is the Japanese animation studio of Katekyō Hitman Reborn!, founded on September 14th, 1978. It began its animation of Katekyō Hitman Reborn in 2006 and took an indefinite hiatus of its animation in September 2010. As of July 2010, Artland has 46 employees. Its official website can be viewed here. As of 7 July 2017, the studio has closed due to bankruptcy.
Completed
Edit
Ad blocker interference detected!
Wikia is a free-to-use site that makes money from advertising. We have a modified experience for viewers using ad blockers

Wikia is not accessible if you've made further modifications. Remove the custom ad blocker rule(s) and the page will load as expected.