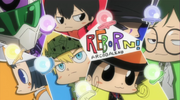 The
Arcobaleno Curse
is the curse inflicted upon all the Arcobaleno that curses them with their infantile body; or, in the
Sky
Arcobaleno
's case, a short lifespan, the first Sky Arcobaleno
Luce
being cursed with both. However,
the man with the iron hat
that gathered the Arcobaleno as the World's Strongest "I Prescelti Sette" (Selective Seven) once again gathered them in a dream and proposed to them a battle between the representatives of each Arcobaleno, where the winner gets their curse removed. As a result, the "
Representative Battle of the Rainbow
" goes underway.
The Arcobaleno watches have the ability to temporarily remove the wearer's curse if the representative is in danger. By calling out "present, please," the curse will be lifted, allowing the Arcobaleno to join the fray.