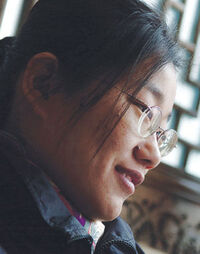 "Hello, everyone! Because of your support, Reborn! is now a full-fledged comic! I'm so happy! This manga is full of troublesome characters, but they're all close to my heart. Anyway, I hope you enjoy it! "

―

Akira Amano's introduction to the series.
Akira Amano (天野明, Amano Akira) born in 1973, in the Aichi Prefecture, Japan, is a japanese manga artist best known for her shōnen manga series Reborn!, which she worked on from 2003 to 2012. The series began a stand-alone short story, early versions were published in seinen manga magazines, it was later serialized in the Weekly Shōnen Jump on May 31, 2004.
Since then, the manga has been adapted into an anime, as well as several light novels, videos games, and other merchandise.
After Reborn! ended Amano began work on another series known as ēlDLIVE, which began in 2013.
Creation and conception
Edit
The Reborn! characters have also appeared in Akira Amano's early versions of the series that were meant for adult readers due to the violence that it contained. Amano has referred to most of her characters as "weirdos", and mentioned that though she changed the storyline's style starting from volume 8 of the manga, she still kept adding the weirdo characters.
Shōnen Spin
『熱風野球伝説ぴっちゃん』
Petit Petit Rabbit: A two volume manga published in Bessatsu Young Magazine and Young Magazine by Kodansha in 2000.
MONKEY BUSINESS
Bakuhatsu HAWK!!
Katekyō Hitman Reborn!: A manga series that was published in the Weekly Shōnen Jump from April 4, 2004 until November 4, 2012. It has an anime adaption by Artland and was published in an English translation by Viz Media before its discontinuation in July 2010.
Psycho-Pass: A 2012 anime by Production I.G. Akira Amano provides the original characters designs and artwork for this anime.
Warashibe Tantei - Numa Shichiro:  A one-shot published in Miracle Jump! on February 26th 2012.
ēlDLIVE: A seasonal manga series that runs in Jump Live.
Nemuri Netaro Arawaru:  A one-shot published in Weekly Shonen Jump! on March 2014.
External Links
Edit